Spring Daffodil.
How to make a model Daffodil.
Easter daffodil-spring crafts.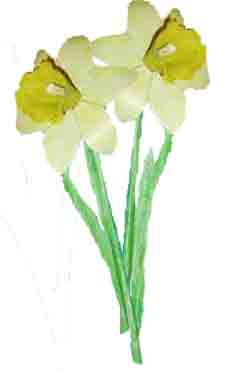 In this quick and easy craft project, you will be making a realistic looking Spring Easter Daffodil like the ones in the picture. This is a great little project which requires the minimum amount of materials. It is very easy and would be ideal for the Easter holidays and spring celebrations, and best of all, it takes very little time.
You will be using scissors or a craft knife so it may require adult supervision.
Parent supervision required !!.
For this simple project you will need:
A craft knife or Scissors
A cardboard egg box
1 sheet of A4 paper or stiff card.
Ruler
HB Pencil
Crayons ( or coloured pencils or pastels or paints)
A paint brush (if using paint)
PVA adhesive or sticky tape
Glue spreader or glue stick
The first thing you will need to do is to draw your daffodil flower and leaves on the A4 sheet of paper as shown below making sure that you leave enough free paper at the edge to form your stem as shown.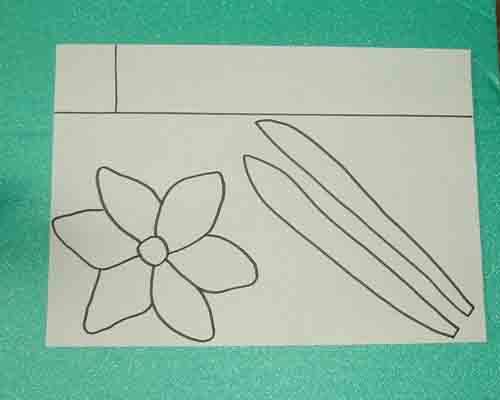 Once you have done this the next thing to do is to colour your Easter daffodil in using paint, crayons, pastels or whatever else you want to use as shown.
Note: If you are doing this as a school project and want to produce several daffodils then it might be wise to draw each component on its relevant coloured sheet of paper.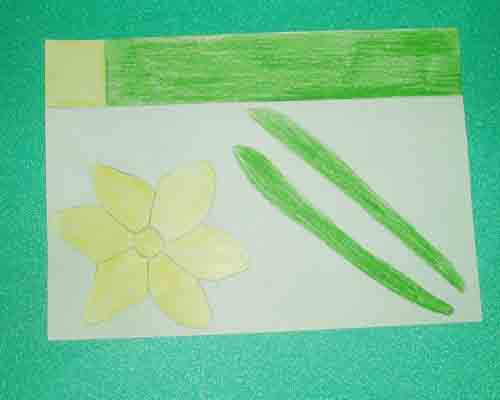 You may have noticed that I have coloured part of the stem in yellow. This is because after I have assembled it I will need to fold it over to put the daffodil trumpet on, during the final stage.
Now that you have coloured in your three basic component; shapes you will need to cut them out and colour the reverse sides. You will not need to colour the long rectangle for the stem, on the reverse side, as we will be rolling it to form a thin tube shown later in this tutorial.
Note: When using sharp scissors or a craft knife it is best to ask an adult to do this for you.
Now that you have your basic components for your daffodil you can now place them to one side and select your cardboard egg box and get an adult to cut out the large upright pieces in the middle which you will use to form the trumpet of your daffodil as shown below in the second picture.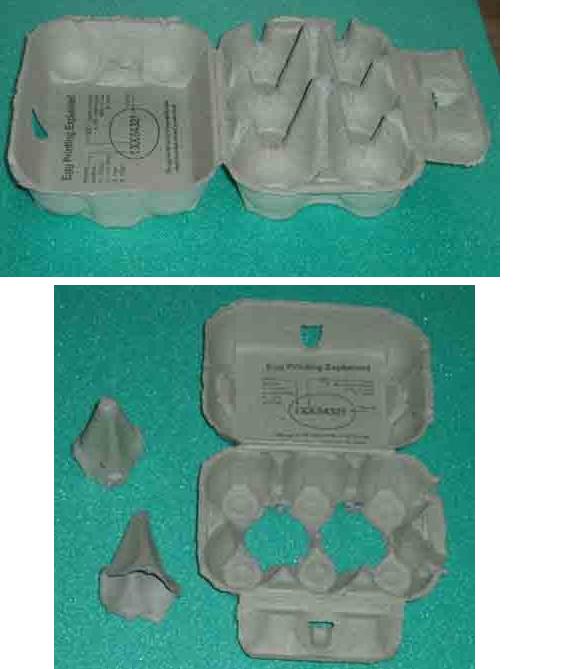 You should now be left with an egg box that looks the same as the one above.
The next thing to do is to take one of your cut out pieces of the egg box and colour it using paint, crayons, pastels or whatever else you want to use as shown below. I found that poster paint was best for this as the card was quite dark and after two coats of paint I was satisfied with the colour.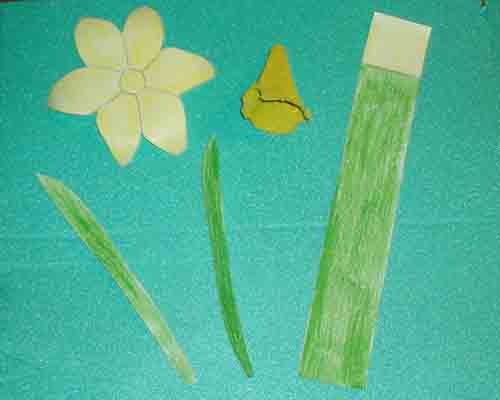 Now to begin the assembly of your daffodil.
The first thing to do is to get the piece of card/paper that forms the stem and roll it into a thin tube making sure that the coloured surface can be seen. This is quite tricky so you may need an adult to help you.
Note: I found the best way to do this was to roll may stem around a couple of pencils placed end to end. You will also need to apply a thin layer of PVA adhesive or craft glue along one edge of the paper, making sure you put the glue on the blank side (the side you did not colour, so that when the tube is rolled the coloured surface shows as seen below.)
Now leave it to dry.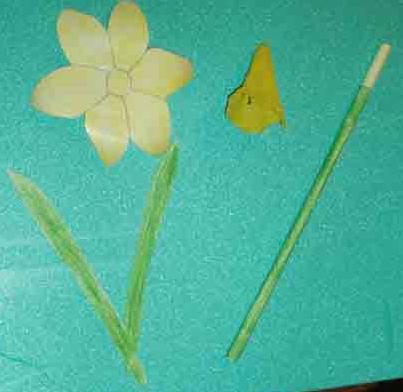 Once your stem has dried you can bend it over where the yellow meets the green ready to insert it into the back of the Daffodil trumpet.
Before proceeding with this you will first need to take your flower template and make a cross-shaped cut in the centre of the flower ready to insert the trumpet as shown below. As you can see in the picture the cross cut will provide tabs for you to stick your flower to the trumpet using a very small amount of PVA adhesive.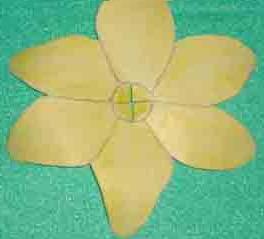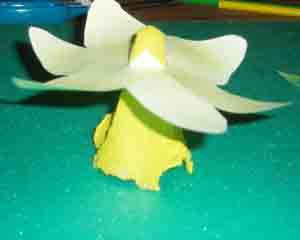 You are now ready to add your stem.
To do this you will first need to make a small hole in the back of your trumpet that is just big enough for your stem to fit into as shown. To do this you will need to use a pair of scissors. I found that by cutting off the very end of the trumpet it provided me with a hole just big enough to get my stem through. ( Remember to ask an adult for help. ) You can use either glue or sticky tape to hold this in place.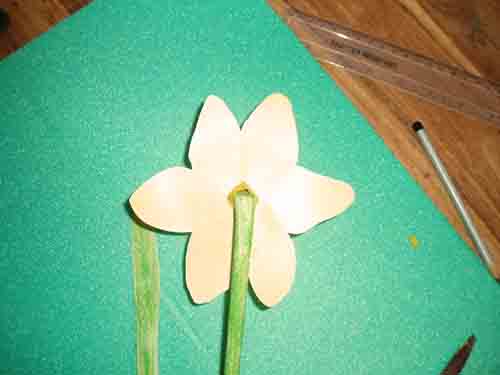 All that is now left to do is to stick the two leaves to the stem and you have your very own Easter Daffodil for a school display or Easter present.