Giorgione.
Giorgio Barbarelli da Castelfranco 1477-1510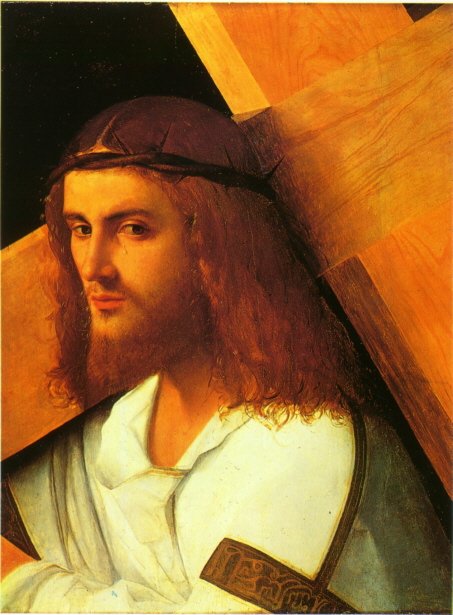 Giorgione. Christ carrying the cross.
Giorgione, a biography of the artist.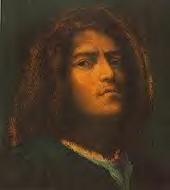 Giorgio Barbarelli da Castle Franco was born in 1477 in the small town of Castelfranco Veneto, outside Venice.

Very little is known about his life and career with his origins being disputed, some authorities claiming his father to have been of the great Barbarelli family and his mother a peasant girl of Vedelago, while later investigators find no proof of this, and call the Barbarelli tradition false, and make him the descendant of peasants from the March of Treviso.

Giorgione means big George, Ruskin calls him stout George, but all agree that he was a large, handsome man, of splendid and attractive presence and known to be a great lover and musician, showing great skill on the lute and having a good singing voice.


With these credentials, he quickly became welcomed into Venetian society and painted many portraits of Venetian aristocracy including Caterina Cornaro, Gonzales (Gonzalvo) of Cordova,

It is believed that he travelled to Venice at an early age and studied alongside Tiziano Vecelli under the Venetian painter Giovanni Bellini and lived together in his house.

His talent developed quickly and he soon rivalled and then surpassed his teacher, Even Titian began following his teachings and imitating his colour, method, and style resulting in much confusion as to what works can be accredited to Titian or Giorgione.

He quickly gained recognition for his work and in 1500, when he was only twenty-three he was chosen to paint portraits of the Doge Agostino Barberigo and the condottiere Consalvo Ferrante.

In 1504 he was commissioned to paint an altarpiece in memory of another condottiere, Matteo Costanzo, in the cathedral of his native town, Castelfranco.

In 1507 he received at the order of the Council of Ten part payment for a picture (subject not mentioned) on which he was engaged for the Hall of the Audience in the Doge's Palace.

In 1507-1508 he was employed, with other artists of his generation, to decorate with frescoes the exterior of the newly rebuilt Fondaco dei Tedeschi (or German Merchants' Hall) at Venice, having already done similar work on the exterior of the Casa Soranzo, the Casa Grimani alli Servi and other Venetian palaces.

A major influence in his life was meeting Leonardo Da Vinci when he visited Venice in 1500.

He died young at the age of thirty-three from the plague which was rife at the time. It is thought that he caught it from his lover.

Very shortly after his death in a letter to a Venetian friend the great art-patroness and amateur, Isabella d'Este, requested that they try to secure for her collection a nocturne by his hand. To her disappointment, the reply was that the painting was not for sale at any price.

There are few if any signed and dated works of his in existence and there is great debate as to what works are his, some believe that most the works of his time that are in his style belong to him but there are only about 6 that are truly credited to him.

The Tempest-La Tempesta. by Giorgione (see below) has been called the first landscape in the history of Western painting.