Titian 1-The Penitent Magdalene. Tiziano Vecelli-Giovanni Bellini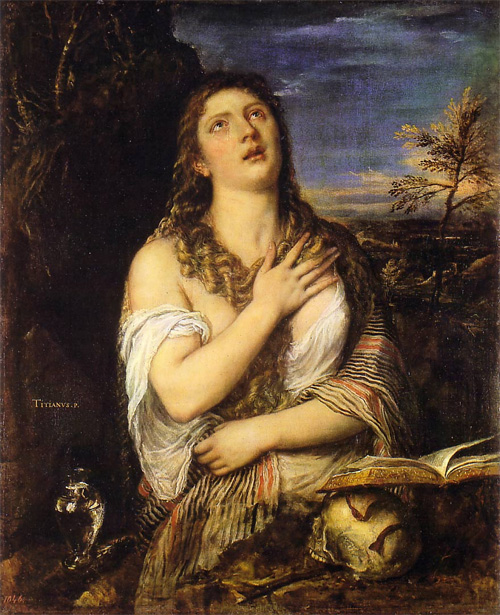 Titian continued. The Penitent Magdalene.
In 1533 he painted a famous portrait of the emperor Charles V which was based on a similar portrait by the Austrian court painter Seisenegger. The emperor was so pleased with the finished piece that he appointed Titian court painter and elevated him to the rank of Count Palatine and Knight of the Golden Spur.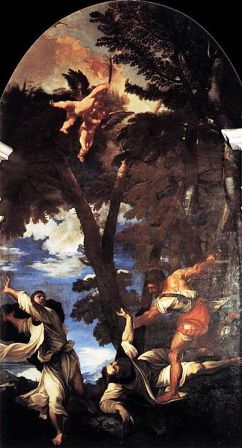 The Death of St Peter Martyr.
The most dynamic of all Titian's paintings of this period was the Death of St. Peter Martyr in which the violent action of the piece was echoed in the convulsion of the old oak trees and sky. Toward the end of this period, he painted The battle of Cadore which depicted in life-size the moment at which the Venetian captain, D' Alviano fronted the enemy with horses and men crashing down into a stream in which he showed a more dramatic style and a new release of vigour in his work.
In 1538 Titian creates Venus of Urbino one of the numerous paintings of a female nude depicting his ideal of female beauty.
The Venetian Government become dissatisfied with Titian as they feel he is neglectful of the ongoing work for the ducal palace. He is ordered to refund the money he had received when he was unemployed and another artist by the name of Pordenone is installed in his place. Pordenone dies soon after and Titian is reinstated. Around this time his position and worldly success are equal only to that of Raphael, Michelangelo, and at a later date Rubens.
In 1540 his work became more heavily influenced by the Mannerism of central and north Italy. He received a pension from D' Avalos, marquis del Vasto, and an annuity of 200 crowns (which was afterwards doubled) from Charles V on the treasury of Milan. Another source of profit was a contract obtained in 1542 for supplying grain to Cadore, where he visited almost every year and where he was both generous and influential.
Titian had a favourite villa on the neighbouring Manza Hill, from which it is concluded he made his chief observations of landscape form and effect. The so-called Titian's mill, constantly discernible in his studies, is at Collontola, near Belluno.
In 1546 he visited Rome where he was impressed by the works of Michelangelo and the remains of antiquity. He was given the freedom of the city. This honour had once also been bestowed on Michelangelo in 1537. He was presented with the opportunity to take over from the painter Fra Sebastiano in the office of Piombo an offer to which he showed no reluctance in becoming a friar for the purpose, unfortunately, the project lapsed due to his being summoned away from Venice in 1547 to paint Charles V and other subjects in Augsburg Germany. While in Rome his own paintings were gaining a lot of interest and he also painted the famous portrait of Pope Paul III and his Nephews (Museo di Capodimonte).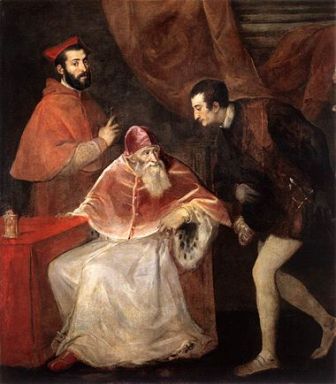 Pope Paul III and his Nephews.
In 1548 Charles V summoned him again to Augsburg, where he painted both a formal equestrian portrait (Charles V at the Battle of Mühlberg) and a more intimate one showing him seated in an armchair (Alte Pinakothek)
In 1550 he was in Augsburg again, where he painted the portrait of Philip II. This was sent to England and proved a potent auxiliary in the suit of the prince for the hand of Queen Mary. He also painted several subjects over a period of approximately 10 to 15 years for the prince which depicted erotic mythological themes depicting a different style of painting, Forms gradually lose their solidity, partially dissolving into hazy paint textures with vibrant brushstrokes and there is a splendour of colour. These pictures were Danaë, Venus and Adonis, Perseus and Andromeda, The Rape of Europa, Diana and Acteon, and Diana and Calisto, and The death of Acteon. Another great work from this time and Perhaps one of his favourite works was Venus with a mirror. This canvas remained in Titian's studio until his death and was the inspiration for many copies and variations. Due to the painting's superior quality, this is the only version that is universally recognised to be entirely the product of Titian's hand alone.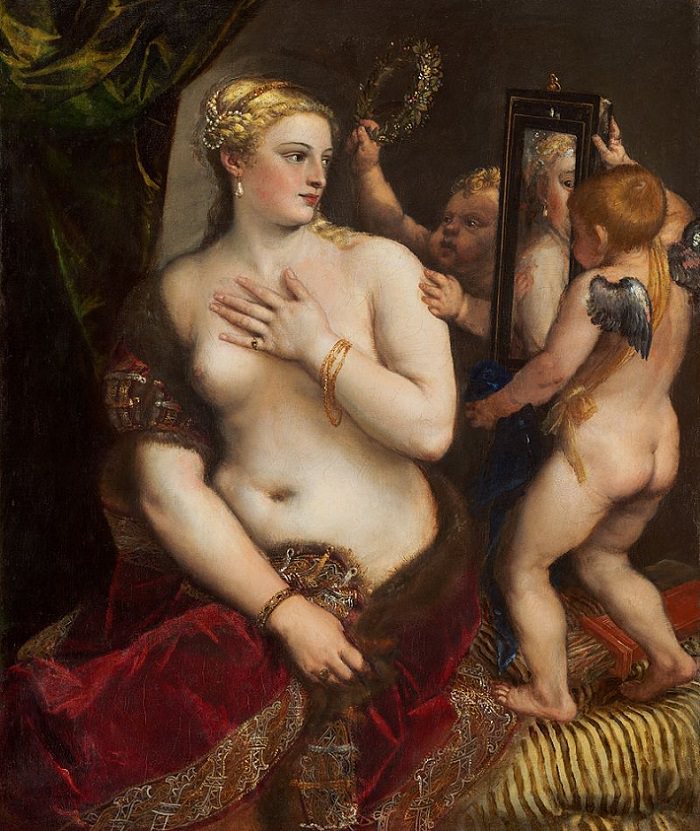 Venus with a mirror.
In 1554 the marriage of his beautiful daughter and subject of various works Lavinia took place. Being already betrothed by him to Cornelio Sarcinelli of Serravalle. She had taken over the management of the household from her aunt Orsa who had died, and as he was providing a more than the average income it placed her in a strong position. Sadly though like her mother and almost as if history was repeating itself she too died in childbirth 1560.
In 1556 His close friend poet and writer Pietro Aretino dies suddenly.
In 1565 Titian went to Cadore. There he designed the decorations for the church at Pieve, which were partly executed by his pupils. One of these is a Transfiguration. among other later works were Allegory of Time Governed by Prudence which it is thought to depict Titian, his son Orazio who was alleged to be his favourite and a young cousin, Marco Vecellio: He also painted Penitent St. Mary Magdalene.
For the remainder of his life, he worked mainly for Prince Philip and devoted much of his time to portraits, becoming more critical of his work as he became evermore the perfectionist.