Pablo Picasso. 1918-1973
Biography of the life of Picasso
Famous Spanish artists - Pablo Picasso

About the artist. 1881 - 1910
Pablo Diego José Francisco de Paula Juan Nepomuceno María de Los Remedios Cipriano de la Santísima Trinidad Martyr Patricio Clito Ruíz y Picasso was born on the 25 October 1881 in Malaga Spain. He was the first born to Don José Ruiz y Blasco and mother María Picasso y López and had two sisters Dolorès ("Lola") who was born in 1884 and Concepción ("Conchita") who was born in 1887. His father was a painter and professor of art at the School of Crafts. He had a middle-class upbringing and from an early age showed a natural talent for drawing. At the age of seven his father began; his training; in figure drawing and oil painting. His father was a firm believer that proper training required disciplined copying of the masters, and drawing of the human body using plaster casts and live models. This, however, had a detrimental effect on Picasso and his school work began to suffer as he became increasingly preoccupied with his artistic studies.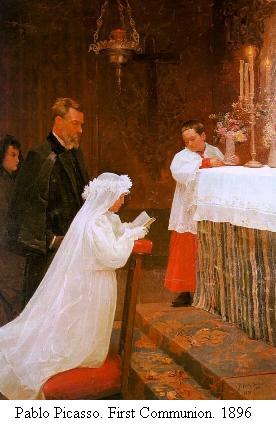 In 1890 Picasso first met Julio González. a Spanish abstract cubist painter and sculptor who would later influence and aid Picasso.
In 1891 the family moved to La Coruña the second largest city in Galicia, in northwestern Spain so his father could become a professor at the Instituto da Guarda. This position lasted for almost four years.
In 1892 Picasso entered the school and it was mainly his father who taught him to paint.
By 1894 Picasso's work started to really show his talent and does not go unnoticed by his father as it; is so well executed for a child of his age. In recognition of; his son's talent he declares that his own ability has been surpassed and it is claimed that he hands Pablo his palette and brushes and vows to never paint again.
In 1895 Picasso suffers a traumatic event in his life when his; sister Conchita dies from Diphtheria. Following her death, the family move to Barcelona where his father; obtains a professorship at La Lonja, The school of fine arts. His father manages to persuade the officials at the school; to allow his son to take an entrance exam for the advanced class, which with his artistic talent Picasso manages to complete in under a week. An impressive time as most of the students normally took up to a month to complete the exam. Picasso impresses the officials so much that despite the fact that he was only thirteen he is accepted.
Living in Barcelona had a lifelong effect on the artist and he often regarded it as his true home. So as to aid with his studies his father rented him a room near the family home where he could work alone and undisturbed. His father, however, would frequently check up on him; resulting in them; often arguing about his work. It is at this time that Picasso make his first visit to the Prado museum in Madrid.
In 1896 aged sixteen Picasso paints his first large academic oil painting titled The First Communion which depicts his sister Lola's communion. The figure standing beside her and acting as her godfather is believed to be a portrayal of his father. He exhibits the painting in Barcelona.
In 1897 at the age of sixteen he was sent to Madrid to study at the Real Academia de Bellas Artes de San Fernando by his father and uncle as it was considered to be the most; prestigious art school in the country. Picasso, however, found the academy to be too stifling and experienced difficulties accepting formal instruction. He soon; stopped attending classes after his enrollment and quickly returned to Barcelona where he spent a lot of his time studying historical and contemporary art alone. While in Barcelona he began to frequent the café Els Quatre Gats where he joined with and befriended other artisans who frequented the cafe. The bar hosted revolving art exhibits and was where Picasso held one of his first one-man shows. Picasso paints Science and Charity, a second large oil painting which portrays his father as a doctor. He received an honourable mention in the national exhibition of fine art in Madrid for the piece.
In 1898 Picasso becomes ill with Scarlet fever and again returns to Barcelona where he stays at Horta D`Ebra to convalesce after being invited by his friend Manuel Pallarès.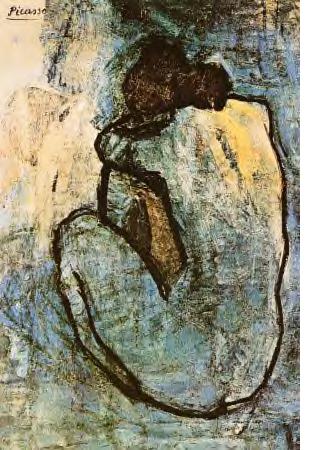 In 1899 while at the cafe; Els Quatre Gats in Barcelona he meets and befriends a writer and sculptor named Jaime Sabartés. Sabartés will later play a greater role in his life.
In 1900 Picasso enters and wins a competition to design the menus for Els Quatre Gats and makes his first trip to Paris which was considered the art capital of Europe. There he met a French writer called Max Jacob whom he shared a room with. Jacob was influential in his introduction to Georges Braque and helped Picasso learn the language and literature of France.
In 1901 He lived in Madrid for a short while and with his friend Francisco de Asis Soler, a known anarchist, founded the magazine; Arte Joven of which there were five issues. Soler solicited articles and Picasso did the illustrations. Their first publication came out on the 31st of March that year. Picasso shortens his signature and begins to sign his work with just his mother's maiden name Picasso. It was around this time that he produced a series of paintings known as the blue period said to have been influenced by the suicide of his close friend Carlos Casagemas painting works such as Blue nude and The old guitarist. He also held his first exhibition in Paris at the Vollard gallery.
In 1904 his blue period ends when he meets Fernande Olivier. She was married and was a Bohemian artist and model who is said to feature greatly in his works of the rose period (also known as the pink period). Fernande was his mistress for seven years. It wasn't long before Picasso started to become well known and he began to accrue some wealth. He and Fernande Olivier split up in 1912 shortly after Picasso had met another woman called Marcelle Humbert. Picasso called here Eva Gouel.
Around 1905 Picasso was becoming well admired by the American art collectors Leo and Gertrude Stein. Gertrude Stein lived in France for most of her life and became a catalyst for the development of modern art and literature. Both her older brother Michael and his wife Sarah also became collectors of Picasso although later they would become patrons to Henri Matisse. Gertrude had a salon at her home in Paris where she would exhibit Picasso's drawings and paintings. At one of the exhibits, Picasso met with Henri Matisse a French artist and draftsman. They would become friends and rivals. He was also introduced to Claribel and Etta Cone a couple of wealthy socialites. Etta was a collector of art and became a lover of the work of Picasso. She would eventually own one of the finest French modern art collections in America containing works by Picasso, Matisse, and Cézanne.
1907 marked the beginning of Picasso's cubist stage dubbed the African period. Picasso had studied many African sculptures and works at the Ethnographic Museum in the Palais du Trocadéro in Paris and then began to represent their shapes and form in his art. German art historian Daniel-Henry Kahnweiler opened a gallery in Paris which Picasso joined. Kahnweiler was an art collector who also became a prominent art gallery owner and champion of Cubism. He was a lover and champion of Picasso's work recognising the importance of his piece Les Demoiselles D'Avignon a piece containing distinct human forms and showing the early beginnings of cubism.
(See large picture below).
This piece was later to become one of his most famous works. He also supported artists that he believed in by making contracts to purchase all their work thus freeing them of the worries of the cost of living and their art. Picasso later wrote of Kahnweiler "What would have become of us if Kahnweiler hadn't had a business sense?"
In 1909 Picasso along with his mistress Fernande Olivier and friend Manuel Pallarès returns to Horta D`Ebra. This year marked the beginning of Picasso's Analytical Cubist stage. Pablo Picasso, Les Demoiselles d'Avignon.
In 1910 Picasso briefly returned to Barcelona